Alaska Aerial Advertising
AirSign provides extensive aerial advertising coverage throughout all areas of Alaska. From beach aerial advertising to sporting events and over busy highways, we'll display your message to crowds in a way your audience will be certain to remember.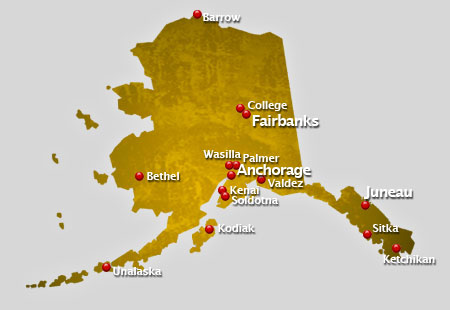 Alaska holds the title of the largest state of America with a land area of 586,412 square miles. It is not adjoining North America geographically but it is technically part of the 50 states of the United States. The State is known for its cool weather and majestic views of nature. Different climates are experienced in different cities all over Alaska. Some experience warm temperatures while some areas are snowy most time of the year. Most of the cities, however, have tremendous rainfall every year.
Acknowledged as North Americas highest peak, Mount McKinley is towering at 20,320 feet and visible along Parks Highway. Another well-known landmark in Alaska is the Totem Heritage Center, famous for its collection of totems recovered from deserted villages. History can be found in Alaska through an unforgettable trek inside the Chilkoot Trail where one can see old mining tools left by hikers from way back while trying to discover what history would describe as the Gold Rush. A number of accredited schools lined up for quality education in Alaska. Some of these major universities are Alaska Pacific University, University of Alaska Anchorage and University of Alaska Southeast. The state also offers boarding schools for students coming from very far places. For those interested in sports, there are actually no major professional sports team in Alaska but there are a lot of college hockey teams and a minor league hockey team in Anchorage.
These are the largest cities in Alaska:
Crowds are an aerial advertiser's paradise! A typical flight over popular events or locations can result in as many as 8,000,000 impressions! Have us fly your aerial banner over the crowds in Alaska to put your message wherever you want, whenever you wish at the best value in mass marketing!