Arizona Aerial Advertising
AirSign provides extensive aerial advertising coverage throughout all areas of Arizona. From beach aerial advertising to sporting events and over busy highways, we'll display your message to crowds in a way your audience will be certain to remember.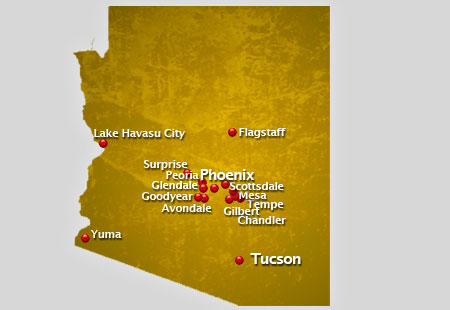 Home of one of the seven wonders of the world, Arizona takes pride in the breathtaking view of the Grand Canyon. It was beautifully carved by the Colorado River and even President Theodore Roosevelt became a proponent in designating the area, visiting the place and enjoying the scene. The Hoover Dam is also a popular site in Arizona. It is a historical dam with power plant and water storage facility, designated in the year 1985.
The state of Arizona is approximately 113,998 square miles and is the sixth largest state. Of all the land area, only 15% is private owned and the rest is allotted to public parks and forests. Since the land area of the state varies in elevation, climate also varies in different cities of Arizona. In lower areas, typically it has mild winters and hot summer. Places in higher elevation experience a much cooler climate.
There are a number of private and public universities in Arizona that offer a variety of programs. These well-known universities would include University of Arizona, Ottawa University and Phoenix University. The state is the home of the famous Phoenix Suns of the National Basketball Association as well as some major leagues like the Arizona Cardinals of the National Football League and the Phoenix Cayotes of the National Hockey League. The Cactus League, a popular location for the Major League Baseball Spring training, is also located in the beautiful state of Arizona.
Some Arizona cities we cover:
Crowds are an aerial advertiser's paradise! A typical flight over popular events or locations can result in as many as 8,000,000 impressions! Have us fly your aerial banner over the crowds in Arizona to put your message wherever you want, whenever you wish at the best value in mass marketing!