Arkansas Aerial Advertising
AirSign provides extensive aerial advertising coverage throughout all areas of Arkansas. From beach aerial advertising to sporting events and over busy highways, we'll display your message to crowds in a way your audience will be certain to remember.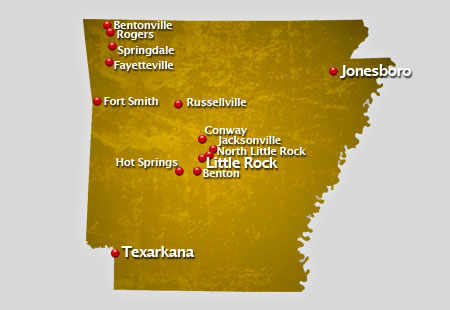 The state of Arkansas consists mostly of mountains, forests, caves. Pretty much all the good views in nature. It has a humid subtropical climate, mostly with hot, humid summers and cold, dry winters. Extreme climate is also known in the state like thunderstorms, tornadoes, snow and ice storms. Arkansas has everything nature offers. It is the only state in which diamonds are mined. It has many caves such as the Blanchard Springs Caverns and historically, a number of archeological artifacts, Pre Columbian burial mounds and rock shelters, have been discovered by the State Archeologists.
Arkansas is the home to a lot of famous names. Such well-known personalities would include former President Bill Clinton, the renowned inventor Ernest Hemmingway and the best selling author John Grisham. One of the most notable landmarks found in the state is the Old State House. This served as the seat of the Arkansas state of government way back in the year 1836. The state has 23 good colleges and universities. Some of these known universities and colleges are the Arkansas State University; University of Arkansas and Hendrix College. Like some states, Arkansas has no major professional league sports team but supports its minor league sports team in baseball, The Travelers and in hockey, The Riverblades and Glacier Cats.
These are some of the Arkansas cities we serve:
Crowds are an aerial advertiser's paradise! A typical flight over popular events or locations can result in as many as 8,000,000 impressions! Have us fly your aerial banner over the crowds in Arkansas to put your message wherever you want, whenever you wish at the best value in mass marketing!