California Aerial Advertising
AirSign provides extensive aerial advertising coverage throughout all areas of California. From beach aerial advertising to sporting events and over busy highways, we'll display your message to crowds in a way your audience will be certain to remember.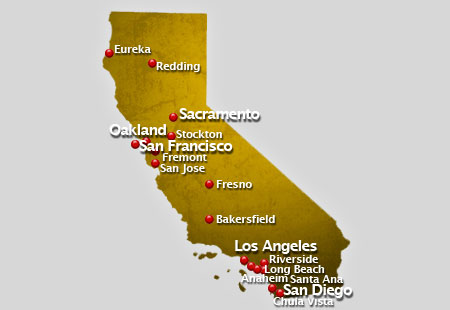 From the crowded place of Hollywood, to the nightly beauty of San Franciso Golden Gate Bridge and the historical island of Alcatraz, the state of California has everything a state needs to be proud of. With a total land area of 160,000 square miles, California is known to be the third largest state in America. Since the California Gold Rush, the state was flocked with people from the US, Europe and other countries looking for gold and until the present, California is considered as the most populous state in the US.
Forestland is dominant in the state and about 45 percent of the land area is covered with towering trees and untouched flora and fauna. Trees found in California White Mountains are the oldest in the world aging 4,700 years. The climate in California varies in location. Most areas have cool, rainy winters and dry summers while areas in high mountains have snowy winters and mild summers. The Death Valley, an aptly named desert found in the state of California, is the hottest in all of North America.
With many large cities, California has nineteen major professional sports league teams including the famous Los Angeles Lakers, Los Angeles Clippers and Sacramento Kings of the National Basketball Association and San Francisco Giants and Los Angeles Dodgers of Major League Baseball. Prominent universities can also be found in California such as Standford University and University of California.
Some of the cities in California that we service:
Crowds are an aerial advertiser's paradise! A typical flight over popular events or locations can result in as many as 8,000,000 impressions! Have us fly your aerial banner over the crowds in California to put your message wherever you want, whenever you wish at the best value in mass marketing!