Colorado Aerial Advertising
AirSign provides extensive aerial advertising coverage throughout all areas of Colorado. From beach aerial advertising to sporting events and over busy highways, we'll display your message to crowds in a way your audience will be certain to remember.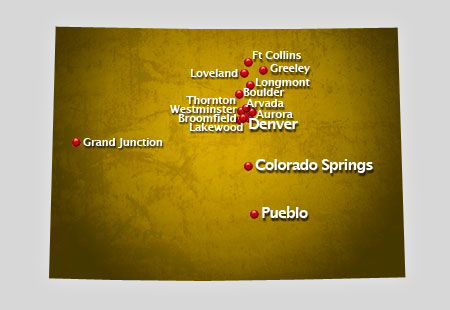 Located in the rocky mountain range, the state of Colorado is mostly a scenery of peaks that are the tallest in the U.S. A very widely known landmark of the state is the many mountain peaks of the Rocky Mountains. It has 50 or more peaks elevated 14,000 feet or higher above sea level. Colorado highest point, Mount Elbert, is also the highest in all the Rocky Mountains in the United States. Contrary to its towering heights, about one third of the entire land area of Colorado is flat land. The climate in Colorado is somehow not similar to other states. It is less uniform depending on the topography of the area. Generally, the higher the elevation, the lower the temperature of that area and there is an increase in rainfall.
Colorado has significant residents of the US Air Force including Peterson Air Force Base, Buckley Air Force Base and the National Headquarters as well as the U.S. Air Force Academy. There are a number of accredited schools in Colorado and 47 colleges and universities which include the US Air Force Academy, Colorado State University and the University of Denver. Many of these universities are home to popular major sports leagues. A few examples of these professional sports leagues are the Denver Nuggets of the National Basketball Association, the Colorado Rockets of the Major League Baseball and the Colorado Springs Sabers of the Women Premiere Soccer League.
Some Colorado cities that we service:
Crowds are an aerial advertiser's paradise! A typical flight over popular events or locations can result in as many as 8,000,000 impressions! Have us fly your aerial banner over the crowds in Colorado to put your message wherever you want, whenever you wish at the best value in mass marketing!