Connecticut Aerial Advertising
AirSign provides extensive aerial advertising coverage throughout all areas of Connecticut. From beach aerial advertising to sporting events and over busy highways, we'll display your message to crowds in a way your audience will be certain to remember.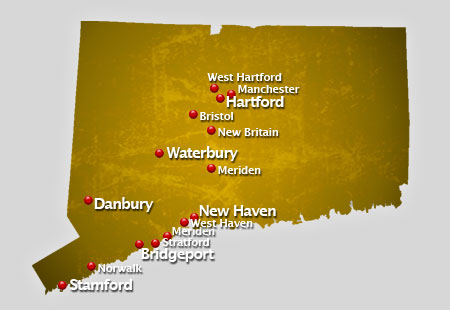 Home to a few famous people, Connecticut is popular for personalities born in the state. Some of these highly acknowledged personalities are the former President George Walker Bush, the forty third president of the Unites States of America, the renowned author of the Adventures of Tom Sawyer and Adventures of Huckleberry Finn, Mark Twain, and the genius author of the widely used Webster Dictionary, Noah Webster. One famous landmark in the state is the Scoville Memorial Library. It is the oldest Library in the United States which began in the year 1771. Another known landmark is the Connecticut State Capitol, popular for its Victorian gothic architecture design.
The state of Connecticut has borders of New York in the west, Massachusettes in the north, Rhode Islands in the east and Long Island Sound in the south. Climates in the interior portion of the state have a humid continental climate. Summers are warm with frequent thunderstorms and winters are very cold with lots of snowfall. In areas especially near the shoreline, it has humid subtropical climate or humid summers and cool winters with significant amount of rainfall.
The well-known Yale University, one of the world top universities, is located in the state of Connecticut and has selective programs for undergraduates. A number of universities are found in Connecticut and from there are produced great athlethes to most of the major professional sports league teams. Among these sports league teams are the Connecticut Suns of the Women National Basketball Association, Nutmeg BMX of the National Bicycle League and the Connecticut Wildcats of the American Natonal Rugby Leagues.
Some of the cities in Connecticut that we service:
Crowds are an aerial advertiser's paradise! A typical flight over popular events or locations can result in as many as 8,000,000 impressions! Have us fly your aerial banner over the crowds in Connecticut to put your message wherever you want, whenever you wish at the best value in mass marketing!