Florida Aerial Advertising
AirSign provides extensive aerial advertising coverage throughout all areas of Florida. From beach aerial advertising to sporting events and over busy highways, we'll display your message to crowds in a way your audience will be certain to remember.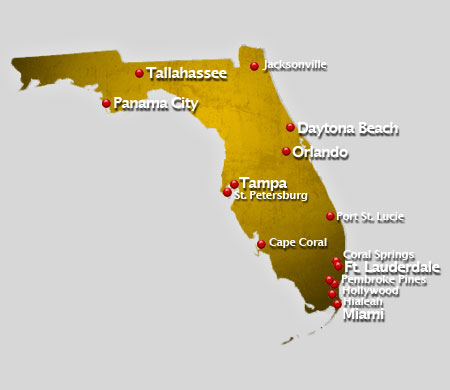 Florida generally has a pleasant climate with hot humid summers and cool winters and is popularly named the -Sunshine State-. Geographically, it is situated on a peninsula bounded by the states of Georgia and Alabama. Popular cities in Florida are the Jacksonville, Miami, St. Petersburg, Orlando and its capital city, Tallahassee. Florida has is proud to contain the oldest city in the United States, St. Augustine. History tells that the first Europen to set foot in Florida, Juan Ponce de Leon, landed near St. Augustine seeking the Fountain of Youth. He then named the place Florida for its flowery view.
A number of places to visit in Florida could create the best trip. In Florida can be found the very famous children theme park, Disneyland, located in a 27,000 acre site. Miami Beach and Palm Beach are favorite destinations of people who want to get out in the sun and into warm waters. There are about 11 state universities in Florida as well as 28 private universities and 20 fully accredited universities that are not affliated with the Independent Colleges and Universities of Florida. Sports enthusiasts widely spread support on a number of major professional sports league teams in Florida. These very popular sports teams include the Miami Heat and Orlando Blooms of the National Basketball Association, Miami Dolphins and Jacksonville Jaguars of the National Football League and the Florida Panthers and Tampa Bay Lightning of the National Hocky League.
Some of the cities in Florida that we service:
Crowds are an aerial advertiser's paradise! A typical flight over popular events or locations can result in as many as 8,000,000 impressions! Have us fly your aerial banner over the crowds in Florida to put your message wherever you want, whenever you wish at the best value in mass marketing!