Idaho Aerial Advertising
AirSign provides extensive aerial advertising coverage throughout all areas of Idaho. From beach aerial advertising to sporting events and over busy highways, we'll display your message to crowds in a way your audience will be certain to remember.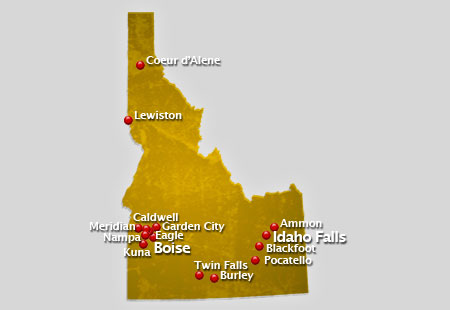 Surrounded with natural and unspoiled beauty, this Rocky Mountain state is rich in natural resources and scenic views. Idaho is home to the Seven Devil Mountains famous for its rugged mountain chains and breathtaking views. It is bounded by the Snake River and the Salmon rivers.
The state of Idaho has 6 state borders and 1 Canadian border. The Canadian State border is for British Columbia and the 6 state borders in America are Montana and Wyoming bordering the east, Washington and Oregon bordering the west and Nevada and Utah bordering the south. Climate in Idaho may varies a lot but generally winters can be very cloudy and humid as well as when rainfall is at its peak. Summers are typically hot during the days due to low humidity but cooler nights.
Three leading comprehensive universities in Idaho are the University of Idaho, which is the first university of the state, the Idaho State University and the Boise State University, the most recent school to be granted university status. There are other private colleges and universities as well as three regional community colleges all over Idaho. A few of the sports team are in the minor professional sports league including Boise Hawks and Idaho Falls Chukars of the Minor League Baseball.
Some Idaho cities that we service:
Crowds are an aerial advertiser's paradise! A typical flight over popular events or locations can result in as many as 8,000,000 impressions! Have us fly your aerial banner over the crowds in Idaho to put your message wherever you want, whenever you wish at the best value in mass marketing!