Illinois Aerial Advertising
AirSign provides extensive aerial advertising coverage throughout all areas of Illinois. From beach aerial advertising to sporting events and over busy highways, we'll display your message to crowds in a way your audience will be certain to remember.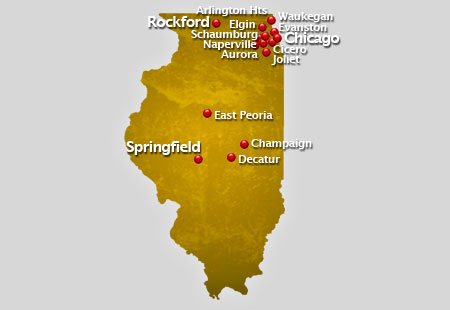 Home to the tallest building in the United States, the state of Illinois takes pride in the Wills Tower, formerly called the Sears Tower. History says that in 1973, by the time it was completed, the tower was considered as the tallest tower in the world.
The state of Illinois, geographically, is divided into three divisions. The first division is the Northern Illinois consisting of the suburban cities dominated by Chicago. The second division is the Central Illinois consisting mainly of medium-sized cities and small towns. And the last or the third division is the Southern Illinois where crops as well as oil and coal mining are found. With this divisions, climate in the state varies depending on the location. Mostly, the state experince hot and humid summers and cool to cold winters. In the southern part, however, it has moderate winters compared to the other two region.
Mainly due to its great population, the state of Illinois has many major professional sports league teams. The widely known Chicago Bulls of the National Basketball Association resides in one of the most populated cities of the State. Also located in the state are the Chicago Bears of the National Football League and Chicago White Sox of the Major League Baseball. Included in the rank of the top 50 National Universities of the United States are the Northwestern University, University of Illinois at Urbana-Champaign and the University of Chicago. These are among the eleven National Universities of the State. There are also other private and public universities and colleges in Illinois and 49 public community colleges.
Some of the cities in Illinois that we service:
Crowds are an aerial advertiser's paradise! A typical flight over popular events or locations can result in as many as 8,000,000 impressions! Have us fly your aerial banner over the crowds in Illinois to put your message wherever you want, whenever you wish at the best value in mass marketing!