Massachusetts Aerial Advertising
AirSign provides extensive aerial advertising coverage throughout all areas of Massachusetts. From beach aerial advertising to sporting events and over busy highways, we'll display your message to crowds in a way your audience will be certain to remember.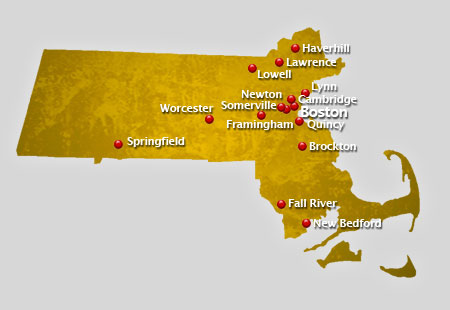 Home to the country renowned educational institutions, Massachusetts has a wide selection of great colleges and universities. The famous Harvard University is located in Cambridge, Massachusetts. It is considered as the oldest university in the United States, the first corporation in the United States and has the largest library in the world. Other well known old universities and educational institutions are the Boston Latin School, the oldest high school in the country, Boston Public Library, oldest municipally supported library and Phillips Academy, the oldest incorporated preparatory school. Aside from these great schools, Massachusetts has more than a hundred private and public colleges and universities scattered all over the state. Out of these schools come the professional sports league teams that are well-liked by the people of Massachusetts as well as other sports fanatic in other states and countries. These sports teams have brought home a number of awards such as the five Stanley Cups of the Boston Bruins, National Basketball Association Championships of the Boston Celtics and World Series titles for the Boston Red Sox and Boston Braves.
The state of Massachusetts is bordered by the states of New York on the east, Connecticut and Rhode Island on the south, New Hampshire and Vermont on the north and the Atlantic Ocean on the west. Climate in the state has warm summers and cool winters. Almost 62 percent of all area of Massachusetts are covered in forests. Although some wildlife has come into extinction because of human development, most of the animals still can adapt to environmental changes such as the deer, white turkeys, gray squirrels and peregrine falcon.
Some Massachusetts cities that we service:
Crowds are an aerial advertiser's paradise! A typical flight over popular events or locations can result in as many as 8,000,000 impressions! Have us fly your aerial banner over the crowds in Massachusetts to put your message wherever you want, whenever you wish at the best value in mass marketing!