Minnesota Aerial Advertising
AirSign provides extensive aerial advertising coverage throughout all areas of Minnesota. From beach aerial advertising to sporting events and over busy highways, we'll display your message to crowds in a way your audience will be certain to remember.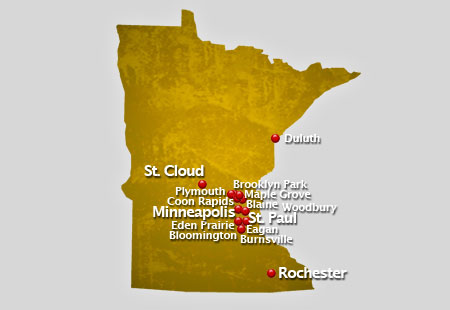 The state of Minnesota, also known as the Land of 10,000 Lakes, derived its name from the Dakota word meaning sky-tinted water. It is the twelfth largest state in the United States and is the twenty-first most populous state. Among the other states, Minnesota is located the farthest north in the United States, except for Alaska. The state does literally have more than 10,000 lakes and numerous streams and rivers. It is also rich in natural resources with farms yielding high on corn, wheat and sugar beets. Climate is humid continental, with snowy winters, brief springtime and warm to hot summers.
Among the popular landmarks of the state of Minnesota are the Minnesota Zoological Gardens, St. Paul Winter Carnival, the Tyrone Guthrie Theatre and the Minnehaha Park in Minneapolis.
There are about 32 public universities and colleges in Minnesota, five of which are campuses of the University of Minnesota. About 20 are the number of private universities in the state and according to the U.S. News and World Reports, six of these private institutions belong to the top 100 liberal arts colleges in the world. One of the popular sites of Minnesota is the Mall of America Field at the Hubert H. Humphrey Metrodome, commonly known as the Metrodome. It is located in Minneapolis, Minnesota and home to the famous sports team, the Minnesota Vikings of the National Football League. Other well-known sports teams are the Minnesota Timberwolves of the National Basketball Association and the Minnesota Wild of the National Hockey League.
Some Minnesota cities that we service:
Crowds are an aerial advertiser's paradise! A typical flight over popular events or locations can result in as many as 8,000,000 impressions! Have us fly your aerial banner over the crowds in Minnesota to put your message wherever you want, whenever you wish at the best value in mass marketing!