Mississippi Aerial Advertising
AirSign provides extensive aerial advertising coverage throughout all areas of Mississippi. From beach aerial advertising to sporting events and over busy highways, we'll display your message to crowds in a way your audience will be certain to remember.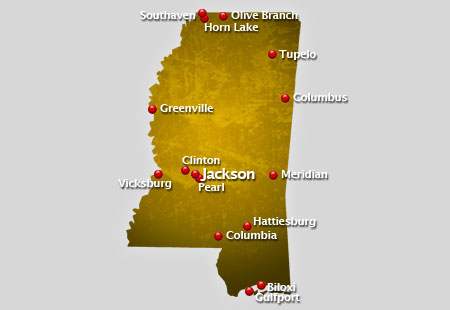 Famous for the Mississippi River, the state of Mississippi derived its name from the Mississippi river meaning Great River, which flows in its west. In general, Mississippi has a hilly landscape, but a distinct part of the whole area is a flat alluvial plain called the Mississippi Delta. It was created by continuous flooding and currently contains the most fertile soil in the land. Climate in the state generally is subtropical with hot humid summers, cool winters and an average amount of rainfall.
Some of the famous historical sites in Mississippi are the Old Spanish Fort, which is the oldest house on the Mississippi River, the Vicksburg National Military Park, the Tupelo National Battlefield and some fine Pre-Civil war antebellum mansions found in Biloxi, Jackson, Oxford, Natchez, Vicksburg and Columbus.
History tells that the state of Mississippi had no established school for black people until the year 1862. During this time, black and white people attended schools separately until the year 1960 when a 1954 U.S. Supreme Court ruling integrated the blacks and the whites. Although there are a number of public elementary and secondary schools, Mississippi ranked last in the fifty states of America in academic achievement conducted by the American Legislative Exchange Council Report Card on Education. There are about 11 four-year universities in Mississippi with 2 campuses of the Mississippi State University, 2 campuses of the University of Mississippi and 2 campuses of the University of Southern Mississippi. Mississippi also has 14 two-year community colleges and 13 private colleges and universities including 4 private liberal arts colleges. Accordingly, there are 4 sports league teams in Mississippi, each representing a different sport. These sports league teams are Mississippi Surge of the ice hockey team in Biloxi, Mississippi Brilla of the soccer team in Clinton, Mississippi Braves of the baseball team in Pearl and Mississippi River Kings of the hockey team in Southaven.
Some Mississippi cities that we service:
Crowds are an aerial advertiser's paradise! A typical flight over popular events or locations can result in as many as 8,000,000 impressions! Have us fly your aerial banner over the crowds in Mississippi to put your message wherever you want, whenever you wish at the best value in mass marketing!