Missouri Aerial Advertising
AirSign provides extensive aerial advertising coverage throughout all areas of Missouri. From beach aerial advertising to sporting events and over busy highways, we'll display your message to crowds in a way your audience will be certain to remember.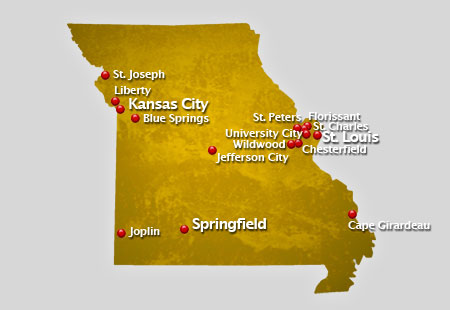 The state of Missouri is one of the two states that has eight state borders surrounding it. It is bordered by Arkansas in the south, Iowa in the north, Illinois, Kentucky,Tennessee in th east and Oklahoma, Kansas, Nebraska in the west. Generally, Missouri has a humid continental climate, with hot summers and cold winters.
It is home to the famous Gateway Arch at the Jefferson National Expansion at St. Louis. The Gateway Arch commemorates historical events in Missouri such as the Louisiana Purchase, the first civil government west of Mississippi River and the debate over slavery. Other popular destinations in Missouri are the Ozark National Scenic Riverways, the home and library of Harry S. Truman and the Jesse James museums.
Some of the major sports league teams in Missouri are the St. Louis Blues in hockey, St. Louis Rams and Kansas City Chiefs in football and Kansas City Explorers, Springfield Lasers and St. Louis Aces in tennis. Generally, the overall head of all public educational institutions of the state is the Missouri State Board of Education. The statewide public university system is the University of Missouri System, with the University of Missouri in Columbia as the largest university of the state. Other public universities are the Kansas City University of Medicine and Biosciences as the first medical school in Kansas, Truman State University as Missouri premiere liberal arts and sciences university and the A.T. Still University as the first osteopathic medical school in the world. Lincon University is a part of the historical universities in Missouri. It was founded in 1866 providing education to the blacks, a fusion of learning and labor. It then became a university in the year 1921 when there is a rapid growth in the number of students enrolling every year.
Some of the cities in Missouri that we service:
Crowds are an aerial advertiser's paradise! A typical flight over popular events or locations can result in as many as 8,000,000 impressions! Have us fly your aerial banner over the crowds in Missouri to put your message wherever you want, whenever you wish at the best value in mass marketing!