Montana Aerial Advertising
AirSign provides extensive aerial advertising coverage throughout all areas of Montana. From beach aerial advertising to sporting events and over busy highways, we'll display your message to crowds in a way your audience will be certain to remember.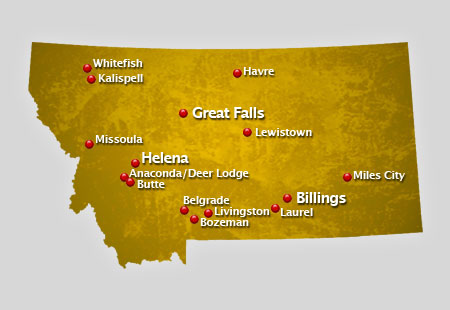 Dubbed as the Treasure State, Montana is the 4th largest state in whole America and has a number of mountain ranges, which is why it was named Montana ( Spanish name for mountain). Total land area of Montana is 145,552 square miles and are bordered by the states of Idaho, Wyoming, North Dakota and South Dakota. Montana also share borders with some of the provinces of Canada such as Saskatchewan, British Columbia and Alberta. Since the state is mostly mountainous in features, generally Montana has cooler summers, milder winters and lesser winds. In addition, Montana is attracts most people with its scenic beauty of nature. Some of its landmarks and destinations are the Glacier National Park, Grant-Kohrs Ranch National Historic Site, National Bison Range, Little Bighorn Battlefield National Monument, Big Hole National Battlefield and the Yellowstone National Park. In Glacier National Park, tourists come for its beautiful lakes, tropical forests and high granite peaks. Native American reservations can be found in the entrances of the Yellowstone National Park.
Baseball is the number one sport in the state of Montana. It has the longest heritage in the state and is where the four minor league baseball teams reside. These teams are the Billings Mustangs, Great Falls Voyagers, Helena Brewers and the Missoula Osprey. There are about 11 state-funded universities in Montana by the Montana University System, 4 Major Tribal Colleges and 3 Major Private Universities and Colleges. Examples of such universities are Montana State University, Dawson Community College, Little Big Horn College as a tribal college and Rocky Mountain College as a private college.
Some Montana cities that we service:
Crowds are an aerial advertiser's paradise! A typical flight over popular events or locations can result in as many as 8,000,000 impressions! Have us fly your aerial banner over the crowds in Montana to put your message wherever you want, whenever you wish at the best value in mass marketing!