Nebraska Aerial Advertising
AirSign provides extensive aerial advertising coverage throughout all areas of Nebraska. From beach aerial advertising to sporting events and over busy highways, we'll display your message to crowds in a way your audience will be certain to remember.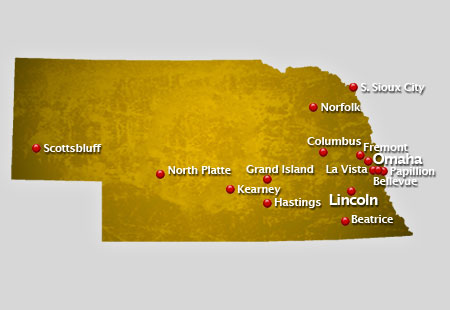 Nebraska became the 37th state of America in the year 1867. By that time, Civil War was over and shortly after the assassination of President Abraham Lincon, the state capital of Nebraska changed from Omaha to Lancaster, eventually named Lincon after the late president. Geographically, Nebraska is divided into two land regions, the Dissected Till Plains and the Great Plains. The Dissected Till Plains covers the eastern part of the state and has a climate of humid continental. Summers in the east are humid and warm with occasional thunderstorm and winters are cold and has occasional snowfall. The Great Plains, on the other hand, covers the western part of the state. It has a semi- arid continental climate or low annual rainfall.
Some of the well-known landmarks of Nebraska are Chimney Rock National Historic Site, SAC Museum, the Sheldon Memorial Art Gallery and Lied Center for the Performing Arts at the University of Nebraska and the University of Nebraska State Museum in Lincon. Most of these great attractions are residing in famous educational institutions of Nebraska. Examples of these accredited universities and colleges are the University of Nebraska System, Nebraska State College System, Bellevue University as a private university and Central Community College as part of the Nebraska Community College Association. Of these state universities arises major sports league teams. Some of these popular sports league teams are the Lincon Saltdogs of the American Association, Omaha Beef of the United Indoor Football and the Omaha Royals of the Pacific Coast League.
Some of the cities in Nebraska that we service:
Crowds are an aerial advertiser's paradise! A typical flight over popular events or locations can result in as many as 8,000,000 impressions! Have us fly your aerial banner over the crowds in Nebraska to put your message wherever you want, whenever you wish at the best value in mass marketing!