Nevada Aerial Advertising
AirSign provides extensive aerial advertising coverage throughout all areas of Nevada. From beach aerial advertising to sporting events and over busy highways, we'll display your message to crowds in a way your audience will be certain to remember.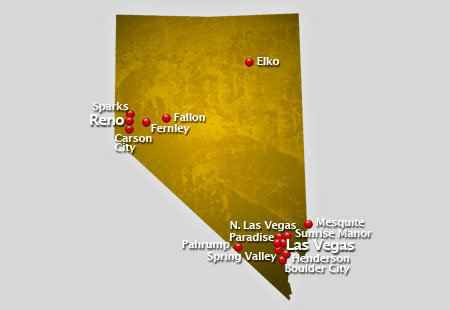 The state of Nevada is the seventh largest state in America and almost 86 percent of its total area is under the U.S. Federal government. Nevada has a great number of silver deposits and mines, thus the nickname Silver State is derived. The state of Nevada is also considered the second most mountainous state in the U.S., second to Alaska. It has an approximately 172 mountain ranges with a measure of 2,000 feet. Climate in Nebraska is like desert climate with low annual rainfall. Winters in the northern part and the western area are extremely cold with frequent snowfall. Summers in the south have a desert climate with very hot temperature.
One of the very popular tourist destination in the state of Nevada is the city of Las Vegas, famous for its wide array of gambling centers or casinos. In 1932 to 1935, the Hoover Dam was built, attracting workers to provide more manpower for the Dam. This resulted to a great increase in population, thus the re-legalization of gambling is implemented, alike to present day situation. Other popular destinations in Nevada are the Lake Tahoe, Pyramid Lake and the Great Basin National Park.
Some well-known universities and colleges in Nevada are the University of Southern Nevada, Sierra Nevada College and the Nevada System of Higher Education, which includes the University of Nevada in Reno and Las Vegas. In sports, Nevada is proud of its state college sports teams such as the University of Nevada Reno Wolfpack of the Western Athletic Conference and the University of Nevada Las Vegas Runnin Rebels of the Mountain West Conference.
Some Nevada cities that we service:
Crowds are an aerial advertiser's paradise! A typical flight over popular events or locations can result in as many as 8,000,000 impressions! Have us fly your aerial banner over the crowds in Nevada to put your message wherever you want, whenever you wish at the best value in mass marketing!