New Mexico Aerial Advertising
AirSign provides extensive aerial advertising coverage throughout all areas of New Mexico. From beach aerial advertising to sporting events and over busy highways, we'll display your message to crowds in a way your audience will be certain to remember.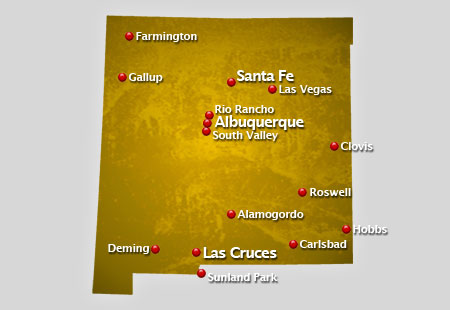 New Mexico has a total land area of 121,665 square miles and is bordered by the states of Oklahoma in the east, Texas in the south, Colorado in the north and Arizona in the west. New Mexico is a state that has little water. There is minimum average of rainfall in the state every year. Climate in New Mexico, generally, is arid climate, or desert climate, with low precipitation and hot summers. Since Spanish colonists dwell mostly in the place, New Mexico is dominated by Hispanic in population. It has the highest percentage of Hispanic dwellers all over America and third highest percentage of Native American dwellers.
Some of the tourist attractions in New Mexico are The Insciption Rock at El Morro National Monument, the ruins at Fort Union, The Calsbad Caverns National Park and the White Sands and Gila Cliff Dwellings National Monuments. History tells that even for the earlier inhabitants, the El Morro Monument is a place to write inscriptions. Many writings of travellers can be seen on the monument, some even dated in 17th century.
Some of the four-year public universities of New Mexico are the University of New Mexico, Institute of American Indian Arts and New Mexico State University. Private universities include the University of Phoenix and College of Santa Fe. In sports, some of the popular sports teams are the Albuquerque Thunderbirds in basketball, New Mexico Wildcats in indoor football and New Mexico Scorpions in ice hockey.
Some of the cities in New Mexico that we service:
Crowds are an aerial advertiser's paradise! A typical flight over popular events or locations can result in as many as 8,000,000 impressions! Have us fly your aerial banner over the crowds in New Mexico to put your message wherever you want, whenever you wish at the best value in mass marketing!