North Carolina Aerial Advertising
AirSign provides extensive aerial advertising coverage throughout all areas of North Carolina. From beach aerial advertising to sporting events and over busy highways, we'll display your message to crowds in a way your audience will be certain to remember.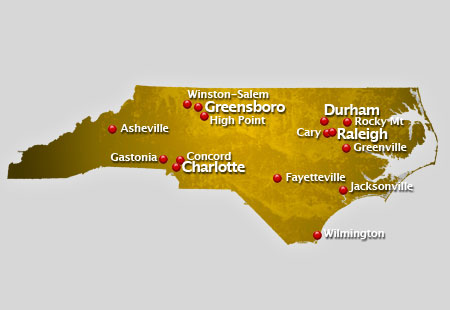 North Carolina is the hometown of the two Wright Brothers, acknowledged as the inventor of the world first successful airplane. The Wright Brothers National Memorial is found in Kitty Hawk in the good state of North Carolina. The state also borders the Great Smoky Mountain, aside from the state of Tennesse, and is best known for its most visited National Park in the United States. Other attractions in North Carolina are the Cape Hatteras and Cape Lookout National Seashores, the Blue Ridge National Parkway and the Old Salem Restoration found in Winston-Salem. Geographically, North Carolina is bordered by the states of Tennesse in the west, South Carolina and Georgia in the south and Virginia in the north. It is located in the the Atlantic Seaboard, southeast of the United States. Climate in North Carolina varies depending on the three regions of the state. The Coasal Plain has mind winter and moderately hot summer. The Piedmont has hotter summers and colder winters and in the Appalachian Mountains, winter are the coldest with frequent snowfall especially in much higher elevations. Summers are cool in this region.
The first public university in the United States opened in 1795 in North Carolina under the name of University of North Carolina. It is now named the University of North Carolina at Chapel Hill. After 200 years, the University of North Carolina has 17 public universities under its authority. Some of these universities are the North Carolina State University, UNC Wilmington, UNC Charlotte and the Appalachian State University. Out of these well known universities form the different sports league teams in different sports. These sports teams are the Charlotte Hornets of the National Basketball Association, Charlotte Rages and Carolina Cobras of the Arena Football League and the Carolina Hurricanes of the National Hockey League.
Some of the cities in North Carolina that we service:
Crowds are an aerial advertiser's paradise! A typical flight over popular events or locations can result in as many as 8,000,000 impressions! Have us fly your aerial banner over the crowds in North Carolina to put your message wherever you want, whenever you wish at the best value in mass marketing!