North Dakota Aerial Advertising
AirSign provides extensive aerial advertising coverage throughout all areas of North Dakota. From beach aerial advertising to sporting events and over busy highways, we'll display your message to crowds in a way your audience will be certain to remember.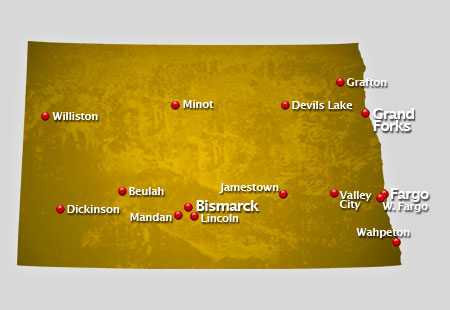 Ranked as the 19th largest state in the United States, North Dakota has a total land area of 70,762 square miles. It is also considered as the 3rd least populated state of America and thus has the least unemployment rate recently. North Dakota, geographically, has state borders such as Montana in the west, South Dakota in the south, the Canadian provinces of Saskatchewan and Manitoba in the north and it shares Red River of the North in the east. North Dakota is found in the middle of North America and is referred as the Geographic Center of the North American Continent. It has almost 90% farm lands and is the most rural of all the states of America. Generally, the state of North Dakota has a semiarrid climate with lesser rainfall every year, still, having a low temperature and snowfall in winters prevents it from having a desert-like climate.
North Dakota has 20 state parks and recreation centers. Some of the popular landmarks in the state are the International Peace Garden in Dunseith, Fort Abraham Lincon State Park, the Theodore Roosevelt National Park, the state capitol of Bismarck and the Knife River Indian Villages National Historic Site in Stanton. Also famous is the Fort Union Trading Post National Historic Site, built in 1828 is identified as the earliest national landmark in the United States. It is the most important fur trading post in the upper Missouri.
The two largest universities in the state are the University of North Dakota and the North Dakota State University. There are about 11 public universities, four private educational institutions and North Dakota has five tribal community colleges.
Some North Dakota cities that we service:
Crowds are an aerial advertiser's paradise! A typical flight over popular events or locations can result in as many as 8,000,000 impressions! Have us fly your aerial banner over the crowds in North Dakota to put your message wherever you want, whenever you wish at the best value in mass marketing!