Oklahoma Aerial Advertising
AirSign provides extensive aerial advertising coverage throughout all areas of Oklahoma. From beach aerial advertising to sporting events and over busy highways, we'll display your message to crowds in a way your audience will be certain to remember.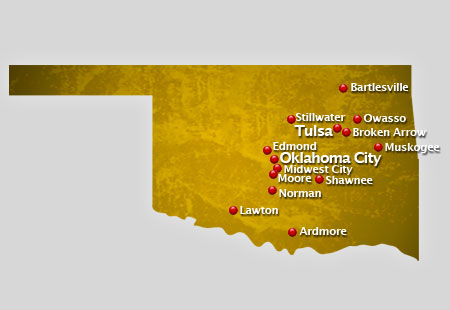 The state of Oklahoma has a total land area 69,898 square miles, with 68,667 square miles of land and 1,231 square miles of water. It is considered the 20th state of America and are bordered by the states of Kansas in the north, New Mexico in the far west, Texas in the south and near west, Arkansas and Missouri in the east and Colorado in the northwest.
Oklahoma has one of the highest rank in tornado hits all over the world with an average of 54 tornadoes yearly since most of the state are located in the Tornado Alley. Severe weather usually are experienced in the state of Oklahoma typically a continental climate. In the eastern part of the state, it has a humid subtropical climate but eventually becoming a semi-arid climate.
The only major sports league team franchise in Oklahoma is the Oklahoma City Thunders of the National Basketball Assocation. Other minor sports league teams are the Oklahoma City Lightning of the National Women Football Association, the Tulsa Revolution of the American Indoor Soccer League, Tulsa 66ers of the NBA Development League and the Oklahoma City Yard Dawgz and the Tulsa Talons of the arena football in the Arena Football 1. Two largest universities in Oklahoma are the Oklahoma State University and the University of Oklahoma. These two state universities, as well as the other state universities such as the Oklahoma City University and the University of Tulsa, are the country best in undergraduate business programs. The state also has 11 public regional universities including the Northeastern State University that holds the largest enrollment of Native American in the United States.
Major attractions in the state of Oklahoma are the National Cowboy Hall of Fame in Oklahoma City, the Cherokee Cultural Center that has some restored old Cherokee villages, the Lake Texoma recreation area, Blue Ribbon Downs in Sallisaw and the Fort Gibson Stockade in Muskogee.
Some Oklahoma cities that we service:
Crowds are an aerial advertiser's paradise! A typical flight over popular events or locations can result in as many as 8,000,000 impressions! Have us fly your aerial banner over the crowds in Oklahoma to put your message wherever you want, whenever you wish at the best value in mass marketing!