Pennsylvania Aerial Advertising
AirSign provides extensive aerial advertising coverage throughout all areas of Pennsylvania. From beach aerial advertising to sporting events and over busy highways, we'll display your message to crowds in a way your audience will be certain to remember.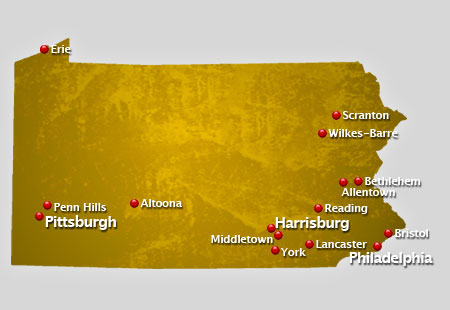 Pennsylvania, geographically, is in the northeastern part of the United States. It has a total area of 46,055 square miles and is the thirty-third largest state in the Unites States. The state of Pennsylvania is bounded by the states of New Jersey in the east, Ohio in the west, Maryland and Delaware in the south and New York and Ontario, Canada in the north. Most regions of the state have a humid continental climate, with hot humid summers accompanied by frequent thunderstorms and cold winters with frequent snowfall.
Philadelphia is home to the historical Liberty Bell, secured in a glass pavilion just across the Independence Hall. History tells that Philadelphia is where the Declaration of Independence was signed in the year 1776 and the U.S. Constitution was done in 1787. Other historical places and famous attractions in Pennsylvania are the Independence National Historical Park in Philadelphia, the Delaware Water Gap National Recreation Area, the Valley Forge National Historical Park and the Eisenhower farm in Gettysburg.
There are a number of professional sports league teams in the state of Pennsylvania. Some of these sports teams are the the Philadelphia 76ers of the National Basketball Association, the Philadelphia Phillies and Pittsburgh Pirates of Major League Baseball, the Philadelphia Union of Major League Soccer, the Philadelphia Flyers and Pittsburgh Penguins of the National Hockey League and the the Philadelphia Eagles and Pittsburgh Steelers of the National Football League. In general, the state has about a thousand of public and private colleges and universities and almost 501 public school districts. Some of these popular universities are the University of Pennsylvania, University of Pittsburgh, Pennsylvania State University and Carnegie Mellon University.
Some Pennsylvania cities that we service:
Crowds are an aerial advertiser's paradise! A typical flight over popular events or locations can result in as many as 8,000,000 impressions! Have us fly your aerial banner over the crowds in Pennsylvania to put your message wherever you want, whenever you wish at the best value in mass marketing!