Tennessee Aerial Advertising
AirSign provides extensive aerial advertising coverage throughout all areas of Tennessee. From beach aerial advertising to sporting events and over busy highways, we'll display your message to crowds in a way your audience will be certain to remember.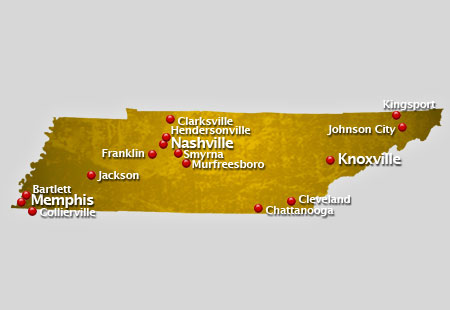 The birthplace of all time favorite country music is also known as The Mother of Southwestern Statesmen, since a lot of the nation leaders were born and raised together with the development of rock and roll and blues music.
The ever popular Memphis, which is the countrys largest city, is home to Elvis Presley, whose house still stands and attracts a lot of tourists yearly. Basically, the country music industry blossomed especially in the construction of the Grand Ole Opry.
The Big Bend State, a name after the states Tennessee River, has a lot of tourist spots. You may want to visit the Great Smoky Mountains National Park, the Appalachian Trail, Graceland and the Tennessee Aquarium.
When you reside in Tennessee, you will mostly experience a humid subtropical climate. Other higher parts of the state would experience a mountain temperate climate. This would mean they enjoy hot and humid summers and mild to cool winters. They also experience hurricanes, tornadoes, ice storms and fog in various areas.
There are a lot of colleges and universities in Tennessee. It just shows how a lot of people here support education. A few of the colleges are the American Baptist College, the Art Institution of Tennessee in Nashville, Rhodes College and O More College of Design. Universities include Christian Brothers University, Tennessee State University, Southern Adventist University and Columbia State Community College.
Some Tennessee cities that we service:
Crowds are an aerial advertiser's paradise! A typical flight over popular events or locations can result in as many as 8,000,000 impressions! Have us fly your aerial banner over the crowds in Tennessee to put your message wherever you want, whenever you wish at the best value in mass marketing!