Utah Aerial Advertising
AirSign provides extensive aerial advertising coverage throughout all areas of Utah. From beach aerial advertising to sporting events and over busy highways, we'll display your message to crowds in a way your audience will be certain to remember.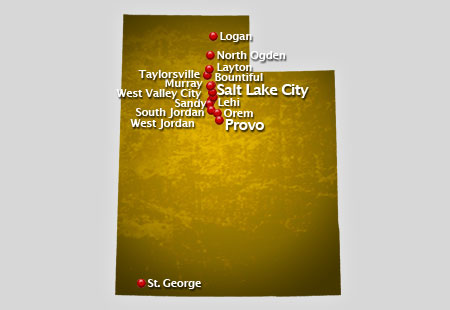 What is otherwise known as the Beehive State has also been known to be a popular destination for outdoor recreation. Also, a large population of LDS or Church of Jesus Christ of Latter Day Saints is reported to make up most of the state.
Generally, Utah is rocky as you would find the famous rocky landmarks here, namely, The Rocky Mountains, The Great Basin and The Colorado Plateau. The wide terrain of Utah defines its geographical characteristics and you may be able to find a series of valleys and basins where most of the people reside.
You might recognize some western inspired films are shot at rugged and dusty places. Utah was a home for these sights which you may find in Bryce Canyon National Park, Delicate Arch and Monument Valley. Salt Lake City, the capital city of Utah is where you would find the light rail system, TRAX and the Great Salt Lake.
A dry, semi-arid to arid climate surrounds the state despite a lot of high points that make it up. This is because Utah lies in the shadow of Sierra Nevada. In general, the temperatures of Utah may range from being very cold to very hot depending on elevation and locations.
Some Utah cities that we service:
Crowds are an aerial advertiser's paradise! A typical flight over popular events or locations can result in as many as 8,000,000 impressions! Have us fly your aerial banner over the crowds in Utah to put your message wherever you want, whenever you wish at the best value in mass marketing!