Washington Aerial Advertising
AirSign provides extensive aerial advertising coverage throughout all areas of Washington. From beach aerial advertising to sporting events and over busy highways, we'll display your message to crowds in a way your audience will be certain to remember.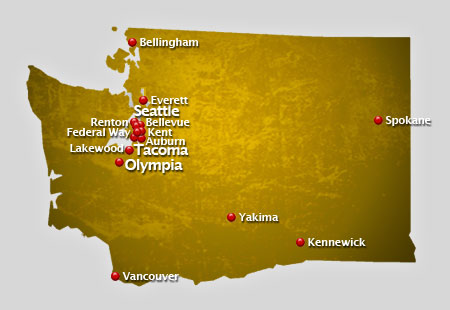 This is a state that has been named after the first president of the United States of America, George Washington. The capital is Olympia and the nickname is the evergreen state since it is famous for its forests that are rich in vegetation.
An oceanic climate best dominates the state which means it experiences prevailing winds due to high pressure anticyclone system and thus resulting to cool air and some predictably dry season during the spring and summer. The opposite happens during autumn and winter.
The history started with Native Americans living here with their totem poles and their fishing industry which is basically composed of hunting whales and salmon. This went well for the people until the smallpox epidemic which destroyed most of their livelihood and killed their families.
The state had also been a haven for the construction of atomic bombs in the second world war. War ships were also manufactured in this area and many soldiers were quartered here.
The schools in Washington are mostly centered in on Arts, Sciences and Math like SAMI and the Center School. There are also a number of State universities, Private universities and community colleges that continue to address the educational needs of the residents, as well as the whole country.
Some of the cities in Waashington that we service:
Crowds are an aerial advertiser's paradise! A typical flight over popular events or locations can result in as many as 8,000,000 impressions! Have us fly your aerial banner over the crowds in Washington to put your message wherever you want, whenever you wish at the best value in mass marketing!