Ohio Aerial Advertising
AirSign provides extensive aerial advertising coverage throughout all areas of Ohio. From beach aerial advertising to sporting events and over busy highways, we'll display your message to crowds in a way your audience will be certain to remember.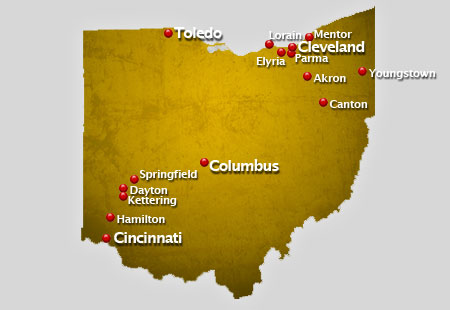 Considered as the 34th largest state in the United States, the state of Ohio has a total land area of 44,825 square miles. Its name is taken from a Seneca word, Ohi-yo, meaning large creek. The state borders of Ohio are the state of Michigan in the northwest, Indiana in the west, Pennsylvania in the east, Kentucky in the south, West Virginia in the southeast and Ontario, Canada in the north. Most places of Ohio has a climate of humid continental, with cold winters accompanied by snowfall and snow cover and warm humid summers accompanied by thunderstorms. Some areas like the Bluegrass region of Ohio in the extreme south and the Upland South has a humid subtropical climate, with hot humid summers and cool winters.
Main attractions in the state of Ohio are the Pro Football Hall of Fame in Canton, Indian burial grounds in Mound City Group National Monument, the Rock and Roll Hall of Fame and the homes of the former presidents of the United States, President Grant, President Garfield, President Hayes, President Taft and President Harding.
The state of Ohio is home to several major sports league teams in different sports. Such sports league teams are Cleaveland Indians of the Major League Baseball, Columbus Blue Jackets of the National Hockey League, Cleaveland Cavaliers of the National Basketball Association and the Cincinnati Bengals of the National Football League. The first fully professional team in baseball were formed in Ohio in 1869 in the name of Cincinnati Red Stockings. The United States highest ranking public libraries are found in the state of Ohio. The number one public state library is the Columbus Metropolitan Library in Columbus and the 2nd in rank, according to the 2008 study by Thomas J. Hennen Jr, is the Cuyahoga County Public Library located in Cuyahoga County in North Carolina. The organization behind such success is the Ohio Public Library Information Network that allows researches wide access to information using variety of books and other research media that are sometimes not available. In addition, the OPLIN permits access to materials in other libraries and provides internet access to all its public libraries.
Some of the cities in Ohio that we service:
Crowds are an aerial advertiser's paradise! A typical flight over popular events or locations can result in as many as 8,000,000 impressions! Have us fly your aerial banner over the crowds in Ohio to put your message wherever you want, whenever you wish at the best value in mass marketing!