How Effective is Airplane Banner Towing?
Consider This...
Is there a way to reach 100,000 commuters in a single market, in one hour? (How many radio stations would that take?)
Is there a way to reach 250,000 race fans, or 100,000 football fans immediately preceding an event? - on a budget?
How do you reach people at the beach... at all?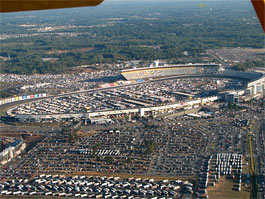 The Solution
The questions are important, but the answer is simple: Aerial Advertising. We fly aerial banners that can reach up to 100,000 commuters on their way to work in one hour, 100,000+ vacationers at the beach, up to 250,000 race fans, and the list goes on. The numbers are staggering, and the investment is relatively small when compared to traditional media.
As a matter of fact, when properly employed, aerial advertising through airplane banner towing is the only true mass-medium left in a world of fragmentation and diminishing returns.
The options available to you range from "free of charge" letter banners (individual block letters spelling out a message) to gigantic aerial billboards that blot out the sun as they fly overhead.
Other Advantages Include:
The flexibility to fly in one market or multiple, as well as simultaneously or in succession.
The banners are re-usable and can be shipped anywhere in the world.
Live GPS tracking is available on request.