Serving Clients Locally, Nationally and Worldwide
Now more than ever, people's attention spans are shortening. It is difficult to stand out in the sea of noise and distractions. Aerial advertising can help you grab and keep your audiences' attention. Plus, statistics show that people remember aerial promotions – 79% surveyed knew exactly what product or service had been advertised. And instead of turning the channel, many take a picture and share it with their extensive network.
Since 1996 AirSign has successfully delivered aerial advertising in virtually all US outdoor locations plus other international venues all over the world.
AirSign works strategically with clients to understand their needs and fit them to the best demographic locations. Advertising campaigns are tailored specifically for the client's needs in a way that will bring them the most return on investment.
AirSign offers aerial advertising via multiple options in virtually all outdoor locations across the United States and throughout the world, including spring break and beaches, sporting events, major markets, and more. (see below)
ANY WHERE AND EVERY WHERE
AirSign is everywhere your audience gathers to celebrate, learn or enjoy themselves.
Conferences, Conventions or Trade Shows –
are organized meetings where many people gather to talk about a particular topic. These can be related to business or personal hobbies. Many of our clients reached their audience at the following conferences.
CES (Consumer Electronics Show) - 109,000+ attendees
SXSW (South by Southwest) – 65,000+ attendees
Gen Con - 61,000+ attendees
Boat shows, RV shows, air shows...
...and many others!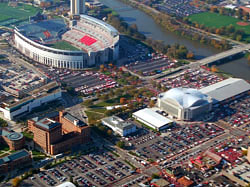 Sporting Events –
Loyal fans brave good and bad weather throughout the year to cheer their favorite teams on. The opportunity is perfect to present targeted messages to specific demographic groups. Guests are not likely to miss your message when they're arriving, during the event, and later when leaving. Many of our clients reached their audience through sports advertising at the following sporting events.
Races such as Formula 1 Indy 500 (300,000+ attendees), NASCAR Daytona 500 (250,000+ attendees), Brickyard 400 (300,000+ attendees) or the Kentucky Derby (165,000+ attendees)
NFL football games (70,000+ attendees / game) including the Super Bowl (100,000+ attendees)
NCAA college football or basketball games and tournaments
Major League Baseball (MLB) games (30,000+ / game) and the World Series
Marathons such as the Boston Marathon or New York City Marathon
...and many others large or small!