Major Market

Aerial Advertising
The effectiveness of Aerial Advertising is recognized by advertisers all across the globe. Not only is it a proven medium for targeting beaches and sporting events, it also has become a solid part of many advertisers outdoor advertising strategy for targeting major markets across the world. AirSign Aerial Advertising is equipped and prepared to manage campaigns in individual or multiple markets simultaneously. With its fleet stationed strategically around major cities, AirSign and its industry partners is capable of servicing aerial campaigns just about anywhere. In addition to covering the United States, AirSign is able to provide coverage to many countries worldwide including South America, Asia, Australia, Africa, India, Europe and many more locations.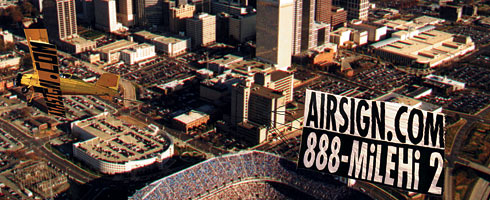 Thousands could be riveted to your message as it flies overhead.
One of our primary tasks at AirSign is staying intimate with each market in which we provide coverage.
Our team studies weather trends, demographics, events, and market intelligence to help clients maximize and make wise use of their media. Here is a list of the top US markets that have yielded the highest ROI for our national clients:
New York City and Long Island Beaches

(includes East Hampton, South Hampton, Fire Island, Jones Beach, Long Beach, and Coney Island)

New Jersey Shore

(includes Cape May, Atlantic City, Long Beach, Long Branch, and Sandy Hook)

Los Angeles California

(includes Santa Monica, Manhattan Beach, Long Beach, to Laguna Beach)

Miami Florida

(includes Ft. Lauderdale to South Beach Miami)

San Diego California

(includes Oceanside to Imperial Beach)
Chicago Illinois

(Downtown district and Shoreline)

Dallas and Ft. Worth Texas

(Downtown districts and Rush-hour traffic)

Ocean City Maryland

(Route covers Ocean city beaches, Bethany Beach, to Rehoboth Beach Delaware)

Atlanta Georgia

(Downtown district and Lake Lanier)

Myrtle Beach South Carolina

(adjacent market: Charleston South Carolina)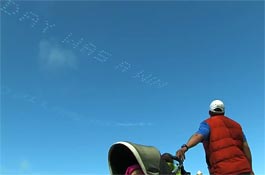 At AirSign we take the time to understand our clients goals and objectives for a campaign and then use our experience and market intelligence in putting together a proposal that will exceed their expectations. Much more than a vender client relationship, we do the research to ensure the optimal markets, prime advertising times, and correct media is used to maximize the return on investment. Contact our team for more information on how we can partner with you in making your advertising campaign a fun and rewarding experience your audience will remember.